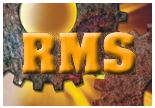 ---
Rental Management System (RMS) was developed to keep track of tools issued and returned at mobile stations. RMS is ideal for the small to mid-sized equipment rental operations. In today's fast-moving markets, high levels of customer satisfaction and retention are key requirements for success and survival. Reducing the cost and improving the quality of services are keys to maximize the profit.
Locating the item quickly and provide the customer's needs in real-time is imperative to business growth and future success. RMS will manage a real-time inventory system with pinpoint accuracy. Early notification of faulty or missing equipments will maintain a healthy inventory system and it will create a successful customer relationship. RMS also includes a dynamic reporting system which will give you a real-time status of your business transaction.
RMS is simply a series of steps which define a process for achieving higher levels of inventory accuracy. The price of poor service and failure to provide customer's needs in time is very expensive. So locating the item quickly and to know your inventory in real-time is imperative to your business growth and future success. To serve your customer with confidence you must keep complete control on your job cost by using an extensive inventory process like RMS and keep your inventory current according to your customer's needs.
Benefits:

• Track items all through the transaction
• Reduce inventory
• Quick entry with handheld scanner function
• Password secure access
• Reduce maintenance cost
• Reduce labor cost
• Increase Inventory accuracy
• Increase customer satisfaction
• Increase profits

Market Potential:

There are many inventory products that exist in the market today. Many of these products could be very complicated to use and expensive. RMS is a user-friendly cost effective product which is suitable for any mid or small size rental business. It could be use as a standalone or a network environment. Near future we are planning to add a function in RMS which will allow the businesses to track the location of each item any moment of time by using cell phone technology. This function can be enabled or disabled according to the customer's request. Currently this function is in development.

Price: Call us or write us from Contact Us page